Turn a good idea into a great idea
Are you passionate about an idea or something you've created, but need to up your skill set or entrepreneurial knowledge? Do you have experience in a company or startup but are now ready to pursue the startup of your dreams?
Founders tell us all the time that they wish they'd had a program focused on the startup process and stages of development. A program combining intensive entrepreneurship education with the time to work on accelerating their own idea. Well, here it is!
This 12-month Master of Science in Entrepreneurship attracts a diverse set of students who are exploring entrepreneurship in all its forms: consumer products, tech, clean tech, VR/AR, social impact, and more. This is a transformative experience blending academic frameworks, practical knowledge, and rich mentoring to help students build their long-term entrepreneurial capabilities while developing their business. As you consider the type of life you want to lead, and realize the "normal" path just isn't for you, put that spark of an idea into action and make it happen!
Program and admissions information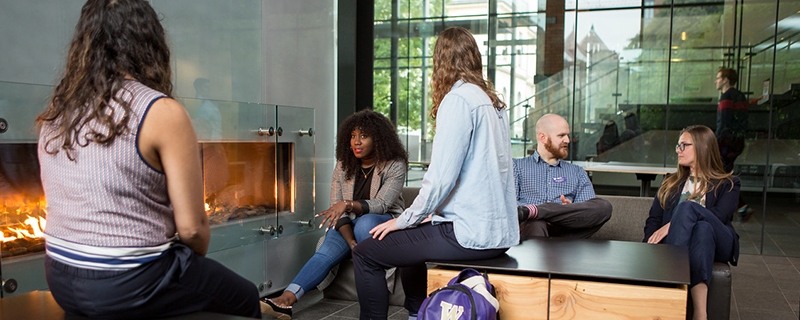 Program overview
Start date: June 22, 2020
Program duration: 12 months (summer, autumn, winter, and spring quarters)
Credits: 46
Cohort Size: Up to 30
Program type: Full-time, weekdays and some evenings
Class type: Cohort-based, lock-step, in-person
Tuition: WA resident $26,400, non-resident $40,500 (based on 2019-2020 year)
Rolling admissions
Complete applications submitted by the dates listed below are reviewed and provided with an admission notification within eight weeks of the review date.
Learn more on our admissions page.
October 14 (Open to all applicants)
January 13 (Open to all applicants. International applicant deadline)
March 9 (Domestic application deadline)
The Master of Science in Entrepreneurship curriculum follows the startup experience:
Entrepreneurial to the core
This program is for you if one (or all) of the following traits are familiar:
You are ready to start your entrepreneurial journey
You have an idea for a product or company
You've started a company but haven't yet found an initial set of customers or don't yet have consistent and repeatable sales growth
You want to build a business around your prototype
Ready to go fast?
Find and evaluate opportunities
Find and build customers
Find a business model that works
Make connections
Lead and coordinate entrepreneurial teams
Build and grow a new venture
Develop fundamental business skills: accounting, marketing, and finance
Apply what you're learning to your own startup
Seattle is the place to start something
Along the way, you'll work with the Foster School's best entrepreneurship faculty and startup lecturers and connect with the Buerk Center for Entrepreneurship's resources and competitions. You'll receive intensive mentoring by a core group of Seattle entrepreneurs venture capitalists, angel investors, and attorneys. Learn more about the mentors.
Prepare to launch
Experience classes and workshops with a peer group that is as focused as you are. Harness the power of community! Get exposure and feedback in UW competitions, and go behind-the-scenes while visiting local startups and VC firms. And the best part is you'll have some time built into your schedule to work on your startup.
Class of 2020 profile
Attend an event
Why should you apply for the MS in Entrepreneurship program?
Hear program staff, faculty, and leading Seattle entrepreneurs and investors discuss Foster's exciting, new degree offering.
Entrepreneurship blog posts
Create an online application profile & start your application